DAVID'S POETRY BOOK (LIMITED EDITION)


With 40 pages of illustrations and hand-written poems, "Supreme Poems" is presented completely unedited, exactly as David composed it. In perhaps the weirdest collection of poetry ever, David's fevered scrawlings focus on themes of love and intimacy, as well as pets, nature, racism and more. $12 For a limited time get it for FREE with your order of a custom painting.
CUSTOM PAINTINGS, DRAWINGS & SIGNED HEADSHOTS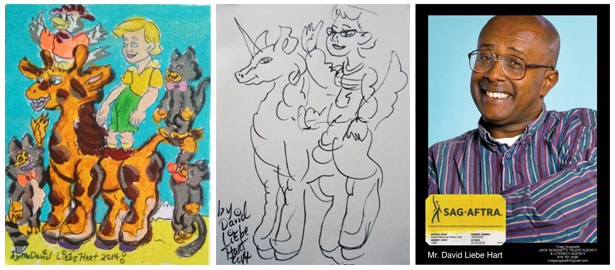 Order your own David Liebe Hart canvas painting (full color, 11×14″), drawing (black & white, 8×11″) or signed headshot (8×11″). For a limited time, painting orders come with a free copy of David's illustrated poetry book, Supreme Poems. (Include desired subject matter in "Specifications" field. Send photos or inquiries to davidliebehartmann@gmail.com.)
| | | |
| --- | --- | --- |
| PAINTING $150 | DRAWING $30 | HEADSHOT $12 |
ROMANTIC/VALENTINE'S CARD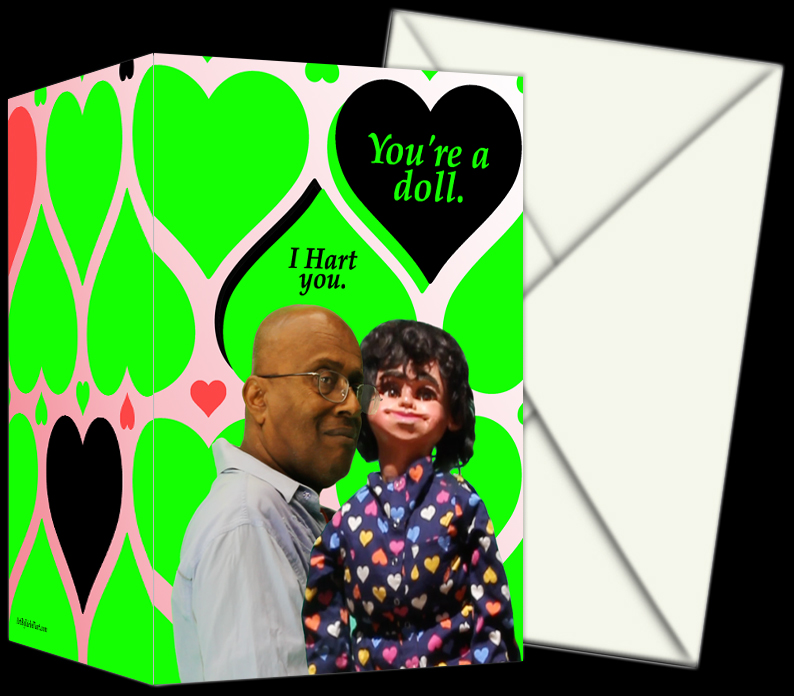 5×7″, blank inside, with envelope.
CHRIMBUS CARD (SIGNED BY DAVID)

5×7″, signed by David, with envelope.
JUNIOR CHRISTIAN TEACHING BIBLE LESSON PROGRAM VOL. 1 DVD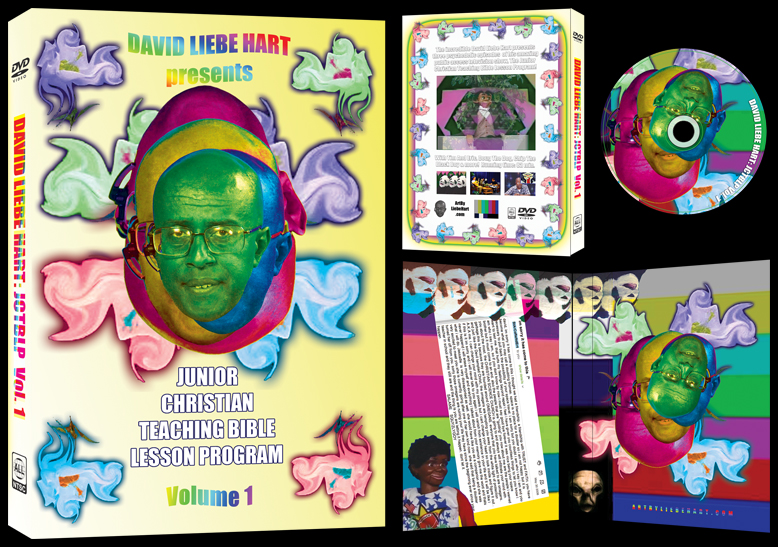 Includes episodes "God The Preserver Pt. 3", "Message From Korendor" and "Featuring Tim & Eric". Running time: 82 minutes. Format: NTSC. $17
WHITE COP DVD

White Cop is a full-length B-movie comedy masterpiece, featuring David Liebe Hart as the Mayor of Chicago, certain to please Tim & Eric fans. Directed by Jake Myers, this 80's action movie homage was a big hit as David presented screenings throughout Australia and the US in 2015. Each of the discs include a hand-scrawled inscription by David himself. [Running-time: 84 minutes. No bad words, graphic violence or sex; suitable for all ages.] $14
MINI-DAVID T-SHIRT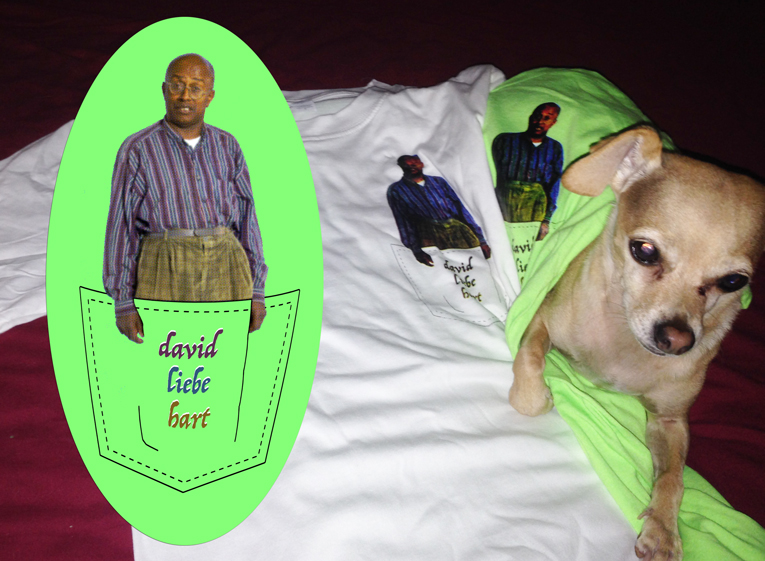 Anvil brand 100% combed ring spun cotton T-shirts, white or green (unisex). Note size and color in "Specifications" field. [Sm, med, lrg, XL, 2XL; white, green] Medium white currently out of stock. $22
DAVIDFACE T-SHIRT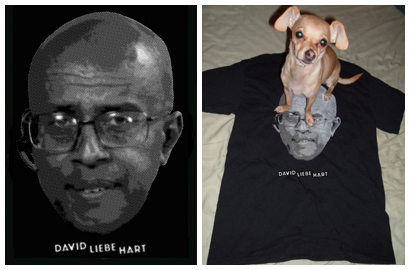 Gildan brand 100% heavy cotton T-shirts, male & female. Note size and sex in "Specifications" field. [Male: Sm, med, lrg, XL, 2XL; Female: Small] Medium currently out of stock.
POSTER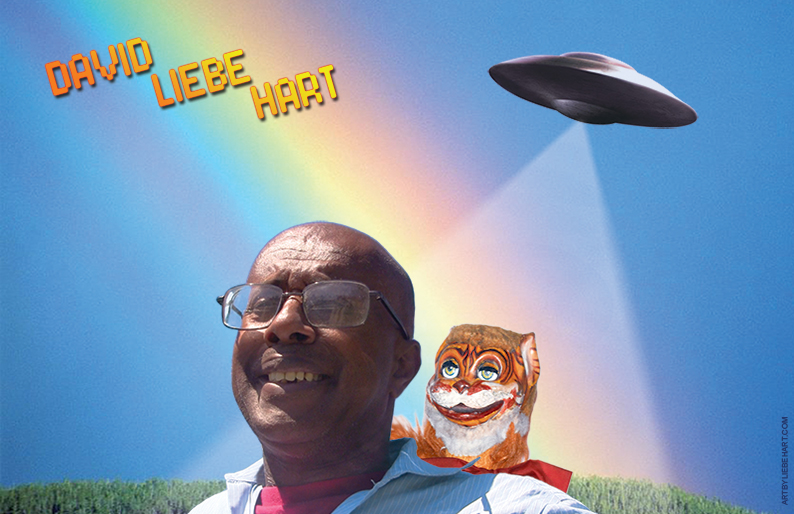 11×17-inch, glossy, uncreased. $10
WORLD'S BEST DAD MUG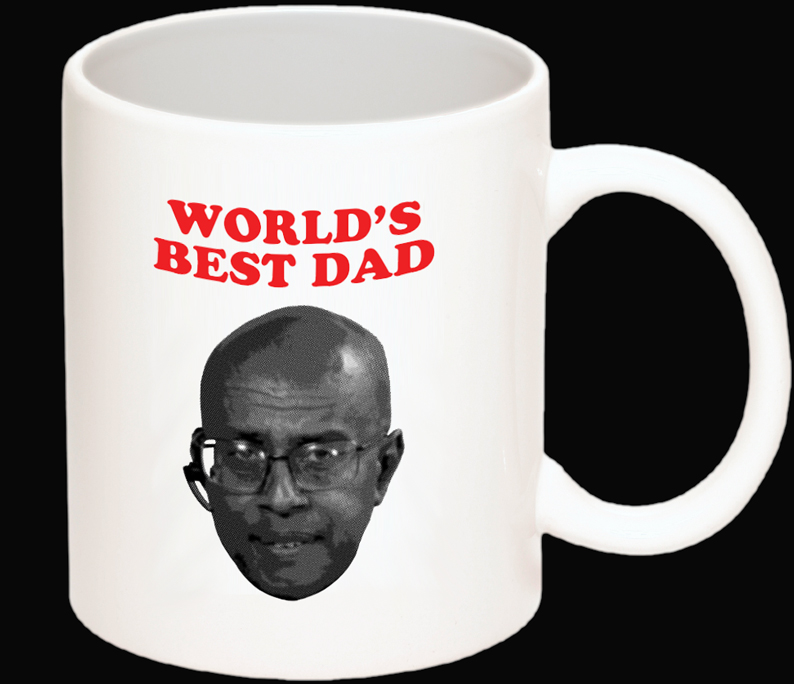 Ceramic. $22
DAVID LIEBE HART: SPACE RANGER (2017)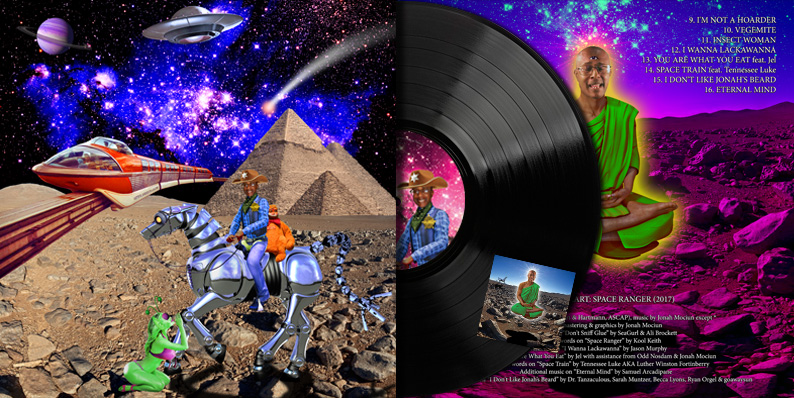 1. Intro 2. Don't Sniff Glue 3. Ghost Frog 4. Email 5. No Sex Since 94 6. Space Ranger (feat. Kool Keith) 7. I Caught My Pecker In My Zipper 8. Hobby Shop 9. I'm Not A Hoarder 10. Vegemite 11. Insect Woman 12. I Wanna Lackawanna 13. You Are What You Eat (feat. Jel) 14. Space Train (feat. Tennessee Luke) 15. I Don't Like Jonah's Beard 16. Eternal Mind
Or digitally via Apple Music/iTunes, Google Play, Amazon or Spotify.

DAVID LIEBE HART: FUNNY JOKES & STORIES Audio + Video (2015)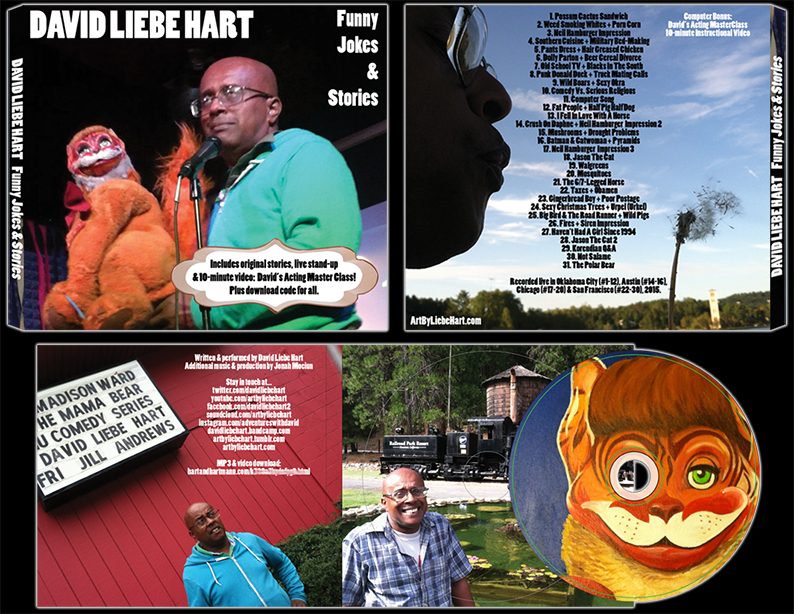 1. Possum Cactus Sandwich 2. Weed Smoking Whites + Porn Corn 3. Neil Hamburger Impression 4. Southern Cuisine + Military Bed-Making

5. Pants Dress + Hair-Greased Chicken 6. Dolly Parton + Beer Cereal Divorce 7. Old School TV + Blacks In The South 8. Punk Donald Duck + Truck Mating Calls

9. Wild Boars + Sexy Okra 10. Comedy Vs. Serious Religious 11. Computer Song 12. Fat People + Half Pig Half Dog 13. I Fell In Love With A Horse 14. Crush On Daphne + Neil Hamburger Impression 2 15. Mushrooms + Drought Problems 16. Batman & Catwoman + Pyramids 17. Neil Hamburger Impression 3 18. Jason The Cat 19. Walgreens 20. Mosquitoes 21.

The 6/7-Legged Horse 22. Taxes + Obamen 23. Gingerbread Boy + Poor Postage 24. Sexy Christmas Trees + Urpel (Urkel) 25. Big Bird & The Road Runner + Wild Pigs 26. Fires + Siren Impression 27. Haven't Had A Girl Since 1994 28. Jason The Cat 2 29. Korendian Q&A 30. Not Salame 31. The Polar Bear
Note: Enhanced audio CD is PC-only. Mac users can stream or download video.
| | |
| --- | --- |
| CD + video & MP3's $14 | MP3's (320Kbps) + video $8 |
DAVID LIEBE HART: ASTRONAUT (2015)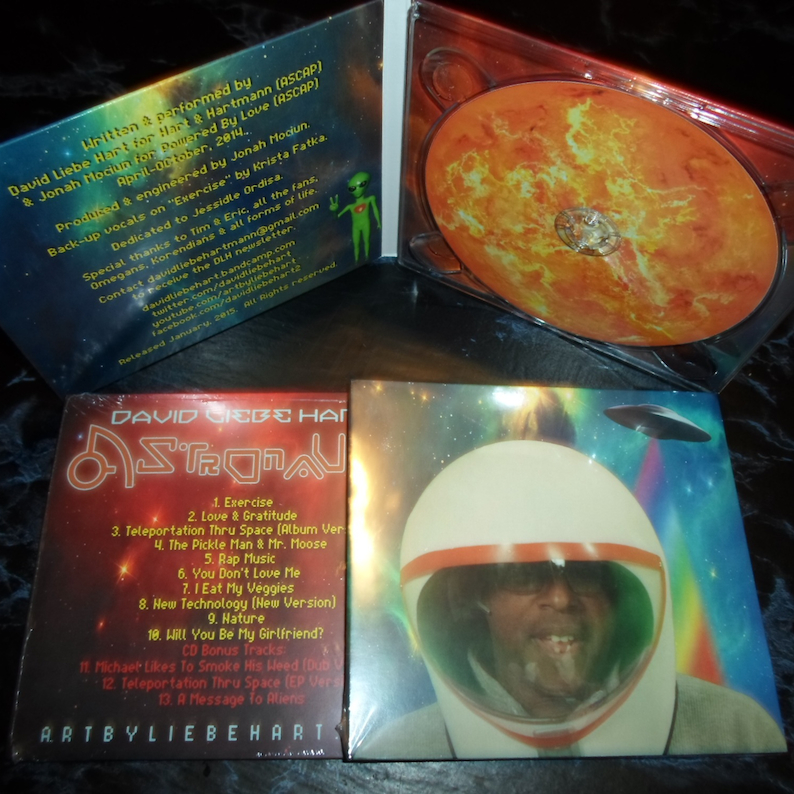 1. Exercise

2. Love & Gratitude

3. Teleportation Thru Space (Album Version)

4. The Pickle Man & Mr. Moose 5. Rap Music 6. You Don't Love Me 7. I Eat My Veggies 8. New Technology (New Version) 9. Nature 10. Will You Be My Girlfriend? CD Bonus Tracks: 11. Michael Likes To Smoke His Weed (Dub Version) 12. Teleportation Thru Space (EP Version) 13. A Message To Aliens
| | |
| --- | --- |
| CD + MP3's $14 | MP3's (320Kbps) $8 |
DAVID LIEBE HART: GO INTO THE LIGHT (2014)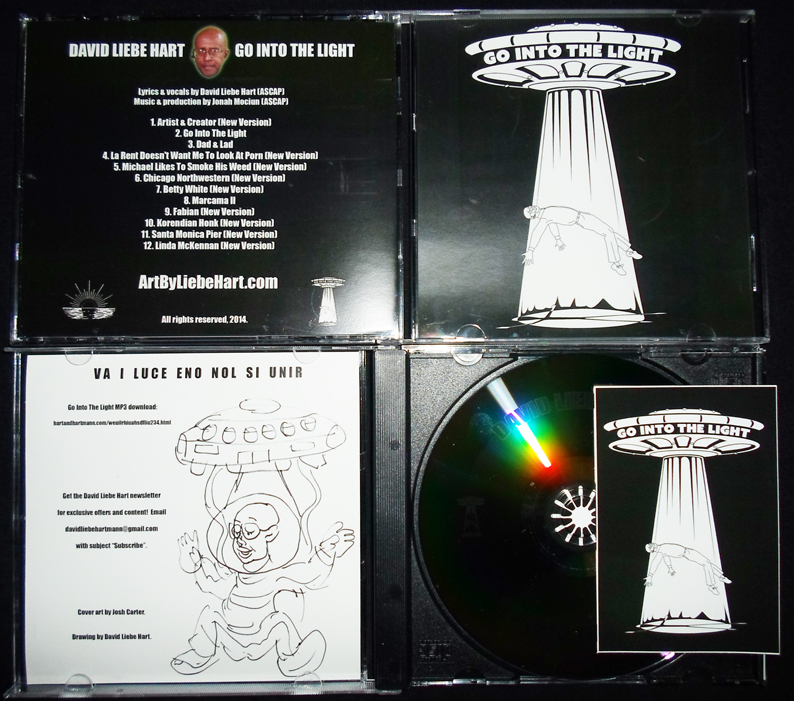 1. Artist & Creator (New Version)

2. Go Into The Light

3. Dad & Lad 4. La Rent Doesn't Want Me To Look At Porn (New Version) 5. Michael Likes To Smoke His Weed (New Version) 6. Chicago Northwestern (New Version) 7. Betty White (New Version) 8. Marcama II 9. Linda McKennan (New Version) 10. Fabian (New Version) 11. Korendian Honk (New Version) 12. Santa Monica Pier (New Version)
| | |
| --- | --- |
| CD + MP3's $14 | MP3's (320Kbps) $8 |
VARIOUS ARTISTS: THE DAVID LIEBE HART TRIBUTE ALBUM (2014)

1. David's Intro

2. Th' Mole – Michael Likes To Smoke His Weed

3.David's Commentary #1 4. Dividend – Did Ezekiel See A UFO? 5. David's Commentary #2 6. Andrew Jones – Tim Heidecker Lied To Me 7. David's Commentary #3 8. Kyle Adem – Seven Moon Festival 9. David's Commentary #4 10. Hi My Name Is Ryan – Atmosphere Of Love Divine 11. David's Commentary #5 12. Wizard Food – Teleportation Thru Space 13. David's Commentary #6 14. Jon Yodice – Beautiful Women 15. David's Commentary #7 16. Rex Nabours III feat. Fjordimus – Not Getting High 17. David's Commentary #8 18. Gary Gill-Guy & Jim Parcel – Better Media 19. David's Commentary #9 + David's Outro
| | |
| --- | --- |
| CD + MP3's $12 | MP3's (320Kbps) $6 |
CHIP THE BLACK BOY (2016)


Falsetto rap album by David's producer, Jonah Mociun. (CD includes lyrics booklet and 18 bonus instrumental tracks.)
1. 4-Headed Horseman 2. Am I Weird? 3. Surprise Twist 4. Gray 5. I Of The Storm
6. Bastard Of Andromeda 7. Hospital Song 8. Black Candles
9. Sneaky Pecker 10. Night Runner, Gate Opener 11.Mini Mutiny 12. Ode To Mommy 13. Drunken Mummy Heist 14. Sex Dwarf 15. Crash Test 16. Father Of The New Dawn 17. Freakazoid Shriek 18. I'm Dead (Dante's Inferno) CD Bonus Tracks: 19-36. Instrumentals
| | |
| --- | --- |
| CD + MP3's $14 | MP3's (320Kbps) $8 |
PERSONALIZED VIDEOS & PHONE CALLS

Order your own custom David Liebe Hart video greeting or personal phone call! (In the "Specifications" field include video subject matter and where you'd like it sent/uploaded, or name/phone number/time zone/preferred time to call. You will receive your video within 6 weeks, phone call within one week – probably sooner. If you require a specific day/time/deadline please inquire at davidliebehartmann@gmail.com.)
PATCHES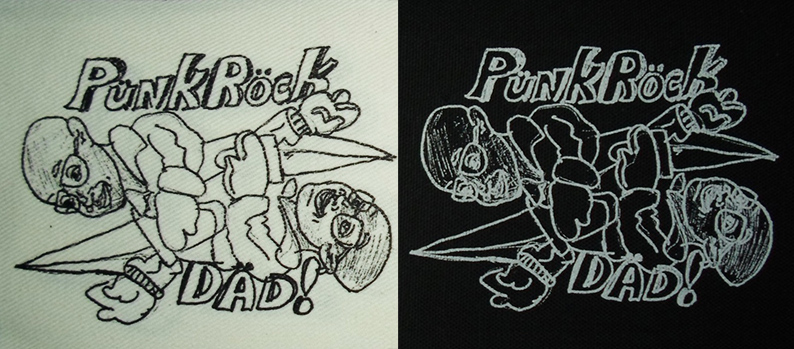 5×6″ Canvas Patch, designed by DLH. $4
BUTTONS